UseNet Archive Reader V 3.00.1
Download
- 7 KB
UseNet Archive Reader is a small script that will traverse through archived Comp.Lang.Tcl files available from http://www.oche.de/~akupries/tcltk.html#clt-arch and display the results in a user understandable way. Very useful when trying to learn Tcl/Tk by looking at old Comp.Lang.Tcl posts.
This small program is for those who wish to study Tcl/Tk. A lot of information about this language is available on the web. And if you have any doubt about anything related to Tcl/Tk, there is this excellent news group Comp.Lang.Tcl. Over the years many people have asked their doubt there and got their answers. Such a wealth of information must be available to all who is interested in Tcl/Tk.
The good news is, it is available. But one has to be connected to the net for reading it. So I hit upon this solution. There are compressed archives of all the posting on this news group available on the net. But browsing thru it is very difficult. So I created this software to make the job much easier.
Installation
Just decompress the downloaded file to any folder of your choice. Then download the archive files from http://www.oche.de/~akupries/tcltk.html#clt-arch and extract it to the same folder that my script is kept.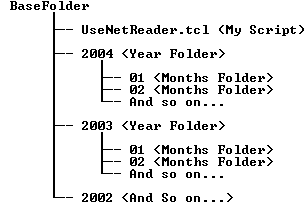 If this format is not present, my software will not work.
ScreenShot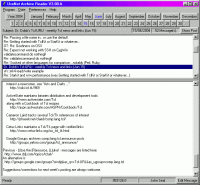 Click to get the bigger picture.
Also I want to give a great big thank you to Andreas Kupries for providing the Archives.