WordPress Administration Plugin - Remote Database Backup
Remote Database Backup wordpress plugin creates SQL dumps of your wordpress database. It is based on the WordPress Database Backup plugin - but it removes some of the security restrictions in the plugin to enable automated remote backups.
Download
Remote Database Backup
Installation
Download the zipped file.
Extract and upload the contents of the folder to /wp-contents/plugins/ folder
Go to the Plugin management page of WordPress admin section and enable the Remote Database Backup plugin
How to Use
One the plugin is enabled, you create a backup by going to Manage > DB Backup. You can download the backups to your system or you can leave it on the server.
To create automated remote backups, follow the instructions given in the
Remote Database Backup post
.
Screenshots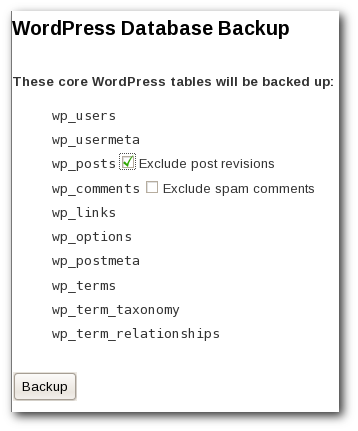 Similar Plugins
I have set up a forum called Remote Database Backup WordPress Plugin. Please use that to post your questions.