Eventr - Event Registration Plugin for WordPress
Eventr, a Event Registration Plugin for WordPress lets you use your blog as an event management tool. You can create an event - the plugin will let people register for the event - it can also show a list of all the attendees. Once the event is done, you can deactivate the event and no more sign ups will be allowed.
Download
Features
Create multiple events from the Admin side
Show a registration form for the event at the client side
Show an attendee list for each event in client side
See a list of all attendees for each event in the admin side - you can manage this list
Set an event date - registration will stop after that date.
Set maximum attendee limit for event. Registration will stop after that limit is reached.
Registration Fields - Name, Bio, URL, Email, Phone, Image Upload fields
All fields except the name can be turned off from the admin side
Ability to export data in CSV format
Optional Captcha protection for spam prevention
And More...
Installation
Download the zipped file from the Eventr page in Wordpress Plugin Repository.
Extract and upload the contents of the folder to /wp-contents/plugins/ folder
Go to the Plugin management page of WordPress admin section and enable the Eventr plugin
Go to the Events Management page(Tools > Manage Events) to create or edit events.
Screenshots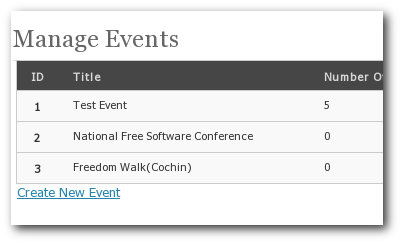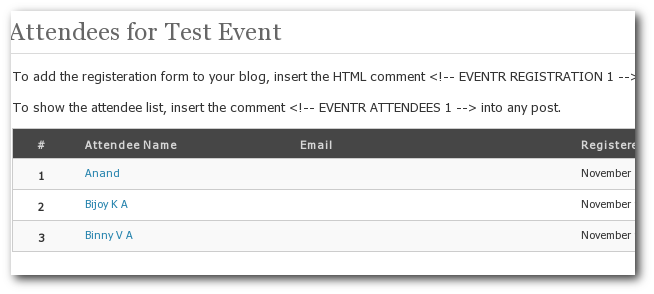 See it in Action
I have set up a few demo pages - try it out...
I have set up a forum called Eventr WordPress Plugin. Please use that to post your questions.