Surveys WordPress Plugin
Surveys WordPress plugin lets you add surveys to your blog. You can let the visitors take surveys and see the result from the admin side. The user who take the survey can enter their details at the end of the survey - or leave it as an anonymous result.
More details at the Surveys WordPress Plugin post.
Download
Installation
Download the zipped file.
Extract and upload the contents of the folder to /wp-contents/plugins/ folder
Go to the Plugin management page of WordPress admin section and enable the Surveys plugin
Go to the Surveys Management page(Tools > Manage Survey) to create or edit Survey
Usage/Screenshots
First, Download, install and activate the Surveys plugin. Then go to Manage > Surveys section to create new surveys - or edit existing ones. After creating a survey insert the HTML comment [SURVEYS 1] into a post. Here, the 1 should be the ID of the survey you want to insert into that post.


The client side of the plugin will look something like this - your visitors will see this part…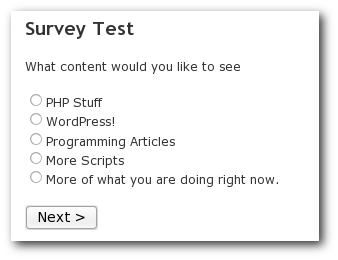 You can see the result of the survey from the admin side - there are two ways to see the data…
Aggregate
This will show the results each question by aggregating all the data so far. This will look like a poll result. This mode is useful to make decisions - you can immediately see the most favored answers for each question.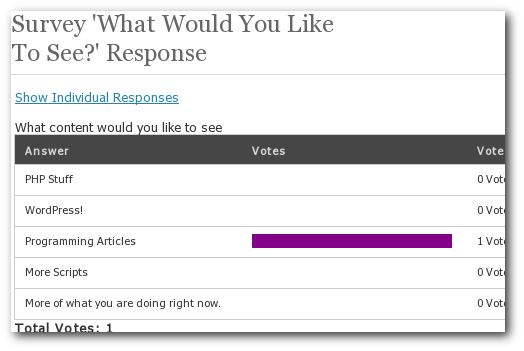 Individual Responses
You can also view all the answers provided by each visitor one by one. This mode has its uses as well.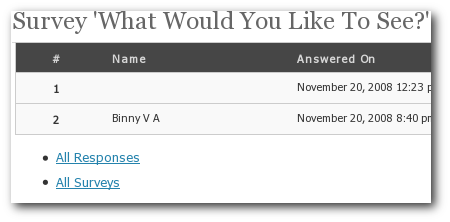 Surveys Demo - See it in action
I have set up a demo for Surveys over at BinnyVA WordPress demo blog. Take a look.
I have set up a forum called Surveys WordPress Plugin. Please use that to post your questions.